If you're like most of us, the time spent on household chores like cooking and cleaning takes away from our Me Time. And the thing is, we can never get that time back.
But if you're a Maid Brigade customer, you probably have more Me Time than your friends, neighbors and co-workers. Our research shows that about half of US women spend more than 5 hours per week on cooking, cleaning and other household chores. What's really interesting isthat Maid Brigade's customers had nearly 40% more Me Time than those who did not have any help with cleaning. That's a big difference: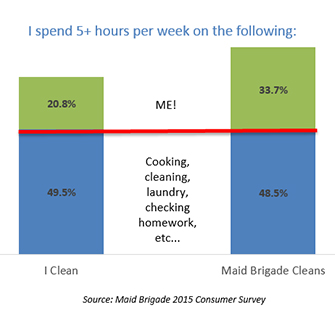 During the holiday season, it's important to be mindful of the need for a healthy balance. With schedules tighter than ever this time of year, a few 30 minute quality Me Time sessions per week will help ease stress and improve moods, optimism and well-being.
Let us help you find more Me Time! Here are some incentives as a way to say, we're grateful to be your cleaning expert, and we wish you a Thanksgiving abundant with food, warmth and love.
Call us – 330-453-6000.